EAST-ADL is an Architecture Description Language (ADL) initially defined in the ITEA EAST-EEA project and subsequently refined and aligned with the more recent AUTOSAR automotive standard.

EAST-ADL is an approach for describing automotive electronic systems through an information model that captures engineering information in a standardized form. Aspects covered include vehicle features, functional architecture and hardware architecture.

The EAST-ADL model is structured in abstraction levels, where each sub-model represents the complete embedded system, at the relevant level of detail. The EAST-ADL abstraction levels maps to the abstraction levels given in ISO26262.
The approach relies on AUTOSAR representation for the software architecture and hardware details of the implementation.

EAST-ADL covers orthogonal concerns such as requirements, variability, timing and safety/ISO26262 through extensions. These extensions can also be applied to AUTOSAR elements.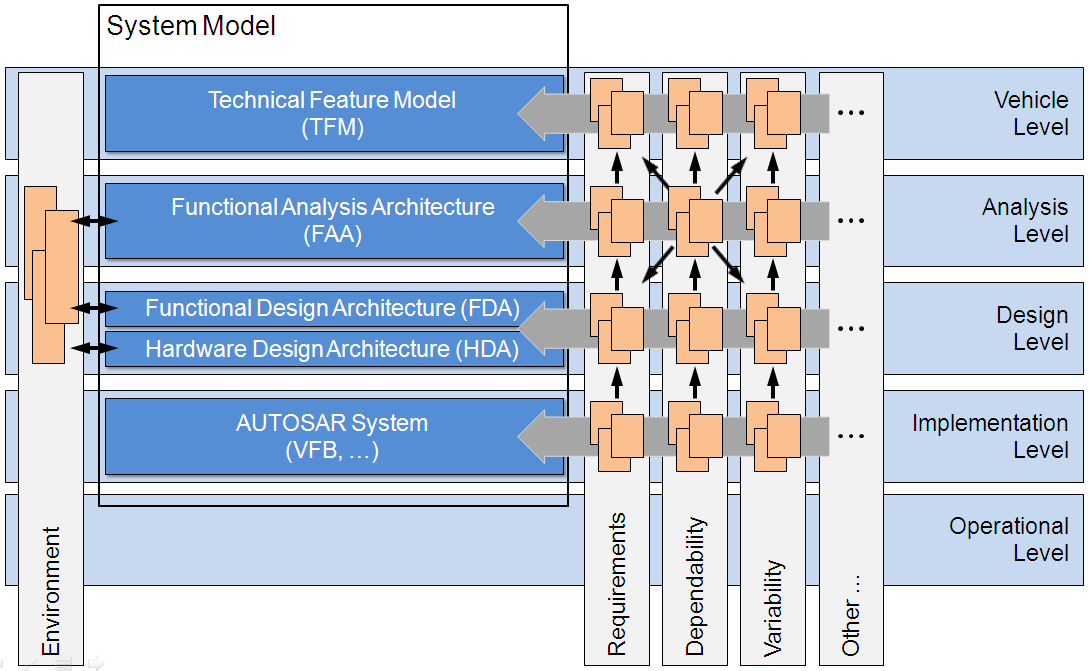 EAST-ADL 2.1

Current EAST-ADL Version
from ATESST2 project:

If you would like to provide technical feedback on EAST-ADL, including bug reports, ideas for refinements and new extensions or questions of all kinds, then please send a mail to:
feedback@east-adl.info

EAST-ADL Resources

Further material can be found here

EAST-ADL Association

This web site is hosted by the EAST-ADL Association.

The EAST-ADL language is developed by different projects and stakeholders over time. To synchronize further refinement of the language and provide an entry point for EAST-ADL information, the EAST-ADL association has been formed.

The EAST-ADL Association is a non-profit, non-governmental organization with the aim of assisting and promoting the development and application of the EAST-ADL.

The EAST-ADL Association will stipulate the content of new versions of the EAST-ADL language. This will be done through collaboration between the members of the association and within projects and organizations working with EAST-ADL.

The EAST-ADL association claims no rights to the EAST-ADL.

Membership in the EAST-ADL Association is open to individuals and organizations who agree to support the purpose of the association.

Members can be affiliated with consortia, companies, institutes, universities or other organizations. The initial set of members are companies and individuals from OEMs, suppliers, tool vendors and research organizations developing EAST-ADL.

The EAST-ADL Association has no fees or funds, and each member carry any costs for contributing.